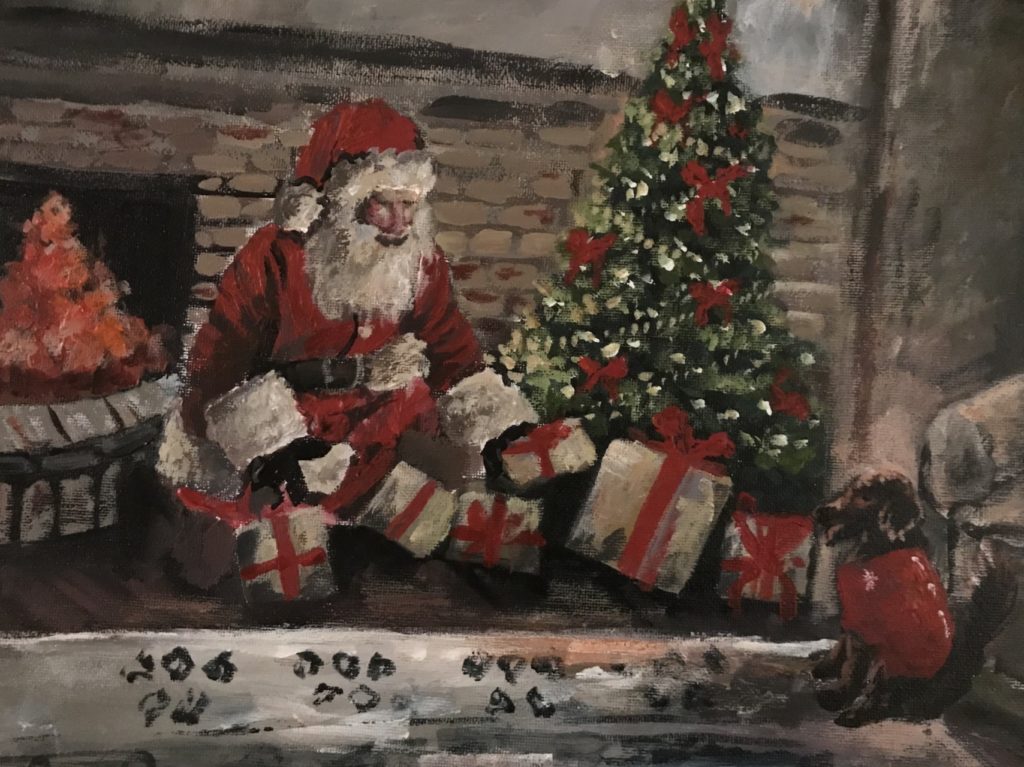 Twas the night before Christmas when all down the street
The canines were waiting not missing a beat.
All the chew toys and bones were wrapped under the tree,
In the hopes that not even Minna would see; 
The dogs were all cozy inside of their beds;
While visions of bacon danced in their heads;
The humans all dressed in pajamas that matched
The doors were all locked and the windows were latched.
When out on the rooftop there came such a racket,
Minna had no time to put on her new Christmas jacket.
She jumped to the window as fast as light,
Pawed open the blinds, to see if she could, in fact, be right.
The stars shone on the sparkly snow,
It looked just like dazzling diamonds, don't you know.
And just as she expected what did appear?
Santa, his sleigh, and the little reindeer!
He was so very plump and jolly,
She secretly hoped he was bringing her a new dolly.
And quickly she heard the thumping of feet,
As Saint Nick bounded down the chimney, he couldn't be beat.
Minna ran to the living room to get a quick peek,
And when she saw him right there she could not speak!
He was in thick fur from his head to his toes,
And how he squeezed in it, no one knows.
Gift upon gift was falling out of his red sack,
Minna read a gift tag that was for her friend, Mac!
His hat was dancing on top of his head,
His facial expressions left nothing unsaid.
His eyes were friendly and bright,
And his little red nose peeked out in the light.
His lips were curled into a small little smile,
As he carefully put the gifts into piles.
Santa Claus then ate up the delicious cookies,
"Uh oh! I hope he doesn't notice I bit into some of his goodies!"
He giggled and smiled with each bite he took,
While his plump little belly wiggled shook.
The stockings by the chimney were carefully filled
The treats and the toys were still a bit chilled
This Santa Claus then clicked his boots,
As he went up the chimney after giving her a small salute.
She ran to the window to watch his next move,
He got in his sleigh and had nothing more to prove.
The reindeers sprinted forward ready for their job,
And stamped their hooves like a joyful mob.
"Now, Dasher! No, Dancer! Now Prancer and Vixen!
On, Comet! On Cupid! On Donner and Blitzen!
Before leaving the roof
He looked right at Minna and she said with a woof,
"Merry Christmas, Mr. Kringle!"
And his sleigh let a little jingle.
As he winked and grabbed the harness,
He drove off into the darkness,
But he said with a loud exclamation,
As the reindeer were in perfect formation,
"To every canine and human and each living thing,Merry Christmas to all, I'm off to Beijing!"