Kids and adults everywhere it's me, Minna, and yesterday was a very special day. It was my birthday! I turned five years old and looking as good as ever. My human and all of the other humans in my life celebrated me well. Can you believe that five years ago I was just a homeless pup looking for just the right human to chew up their socks and steal their cheese and crackers?! Lucky for me, I found just the right human. She always leaves her socks out and often spills her food so I hit the jackpot!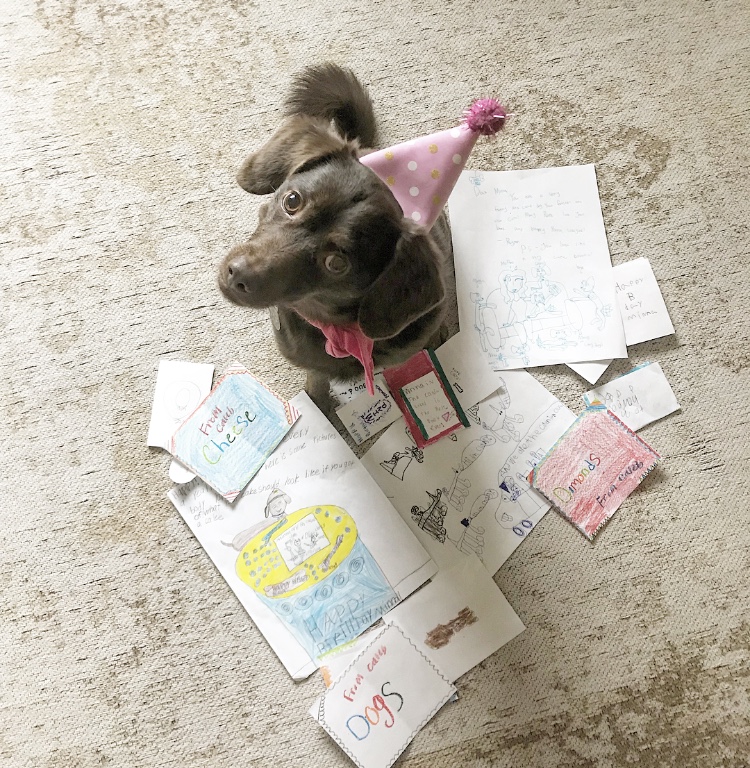 I remember my last day at my rescue place. I saw my human walk in and spot me. I knew she was the human for me. My rescue team held me up (and I was SO adorable back then) and looked right in my eyes and said, "You are going to have a great life." Dazzling diamonds, were they right! My human has the best family who always visits me and takes me on exciting adventures. We have a lot of great friends who bring lots of treats and massage me while I lay on their laps. I even got a new cousin, Sully, two years ago! Sully and I wrestle at our grandma and grandpa's house, and sometimes our grandma has to chase us down so we don't jump on her leather couch. Plus, in the summer we all travel up to our cottage where I can swim and dig giant holes on the beach (my great grandpa really LOVES that!).
My human even told me that now kids from all over the country know about me! This birthday was extra special because the tiny humans from my human's class sent me a lot of really great cards! They must know I love cheese and diamonds because a lot of the cards had that on them. I even ate one thinking it was actual cheese…oops! I told you I was a lucky dog!
I thought the rest of the world would want to know how I celebrated my birthday, so here a bunch of fancy pictures of me from yesterday.