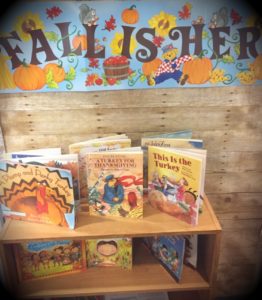 Each year I look forward to the month of November in my classroom!  Early elementary teachers are appreciative of the independence that students are learning as well as getting to be more in depth with the content we teach.
For many of my kindergarten students, this is the first time they learn about why we celebrate Thanksgiving and how it came to be in America.  I find their interest levels peak when they learn about the Pilgrims and Native Americans.  There are many great books I bring out to teach about the first Thanksgiving.  For lower elementary teachers One Little, Two Little, Three Little Pilgrims is a great book to read for shared reading that builds fluency.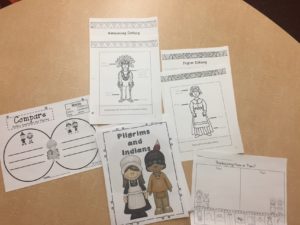 The final days before Thanksgiving break is a time to for my students to celebrate with authentic learning activities.  Here are some of my favorite activities with my class:
Native American Vests: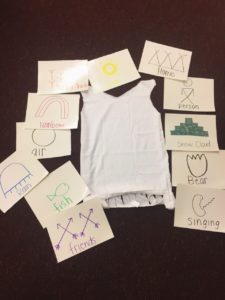 Have your students bring in a pillowcase and cut them into a vest.  This requires some preparation ahead of time.  Display Native American symbols and drawings the students can draw onto their pillowcase to decorate their vest.  If you don't have pillowcases, another option is to use paper grocery bags and cut them into a vest pattern.  The students love to see the symbols the Native Americans used and use them to draw a story on their vest.
Thanksgiving "Jewelry"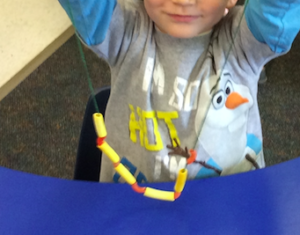 This activity is not only fun for students but it is also great for fine motor skills.  To make a necklace have students string on colored noodles or Fruit Loops to create a replica of Native American jewelry.  Leading up to this activity the students have compared and contrasted Native Americans with themselves as well as the Pilgrims.  One thing that we learn is different from the Native Americans is how their jewelry is made and the materials used.
If you use Fruit Loops instead of colored pasta noodles, don't expect their necklaces to last too long!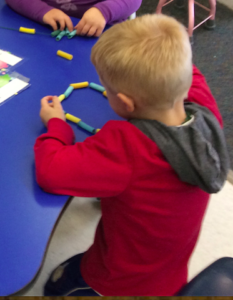 Thanksgiving Instruments:
Gather some dried beans or corn kernels and have students place them in a small coin envelope or a plastic water bottle.  My class always likes to decorate and write their Native American names I gave them on their noise maker prior to placing the beans and corn in.
Feather Headbands:
Cut out poster board or use already made sentence strips.  Students will cut out colored paper feathers and glue them around their headband.
Homemade Butter:
This activity is one of my favorites because I love to see the enthusiasm it brings to students when the realize they are making homemade butter!  To make you need whole fat whipping cream that is very cold and a glass mason jar.  Shake the cream in the jar vigorously.  After a few minutes of shaking, the cream will turn into butter!
Pilgrim Hat Snack:
Of course, I am not claiming this snack to be authentic, but it does make for a fun and tasty treat for your class.  You will need: peanut butter cup, fudge stripe cookies, chocolate/vanilla frosting, and an orange tic-tac (or M&M).  Students will smear a little frosting in the center of the cookie to act as glue for the peanut butter cup that will be placed on top of the frosting.  Place the orange candy in front of the peanut butter cup to look like the buckle of the hat.

I hope you enjoy this season with your students and you are able to fit in some authentic Thanksgiving activities!  One of the most rewarding things as a teacher is seeing the enthusiasm while learning and one student asking about the First Thanksgiving is, "Is this a TRUE story?!"