If you know our characters in Minna and the Canine Club, then you know Clancy loves his treats! Have you seen Clancy's collar?! He sports a half eaten bone, mostly because he is constantly eating and wanting a special treat.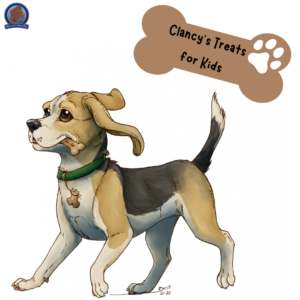 That is why, we are now featuring Clancy's Treats for Kids every Friday! Come check out The Daily Barker Blog each Friday for a fun treat for kids, that kids can easily make themselves!
This week, Clancy is sharing a delicious kid approved treat which he calls his "S'more Smush" – no fire or oven needed! Want to make this at home? Check out the recipe below.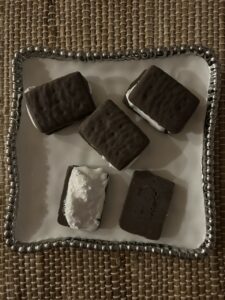 Clancy's S'more Smush:
Ingredients:
-Marshmallow fluff (substitute could be just a marshmallow)
-Deluxe Grahams (substitute could be any sort of cracker or favorite cookie)
To Make:
Get your ingredients
Get 2 deluxe grahams and a spoonful of marshmallow fluff
Put the spoonful of marshmallow fluff on one deluxe graham
Smush the second deluxe graham on top of the marshmallow fluff
ENJOY!
Let us know in the comments below if you try Clancy's S'more Smush this week! And make sure to come back next Friday for another treat for kids!