This week for Clancy's Treats for Kids we have one that is perfect for those end of summer road trips! We were just on a road trip to Colorado, and we made this kid proof snack.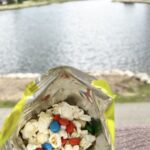 Ingredients:
-1 small bag of popcorn (we use Skinny Pop because it's pre packaged and easy!)
-1 individual bag of M&Ms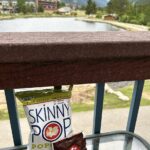 To Make:
Grab your bag of popcorn
Throw your M&Ms inside
Shake it up!
Enjoy!
Where is the end of summer taking you and your kids?!