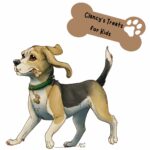 It's summer, and this week for Clancy's Treats (our foodie character!), we are featuring a summery, healthy snack for kids! We all know kids will eat healthier when the food looks fun, so we put together a fun palm tree.
You can of course substitute any healthy food for what we used, but we love the combo of sweet in this recipe!
Clancy's Palm Tree:
Ingredients:
-1 celery stick
-1/4 apple (we love honeycrisp)
-1 tablespoon peanut butter
-a few peanuts for the coconuts
To Make:
Cut 1 celery stick and put it on a plate
Slice 1/4 of an apple into thinner pieces resembling palm leaves
Spread 1 tablespoon of peanut butter on the celery stick
Sprinkle some peanuts on the celery stick
ENJOY!
Let us know if you liked Clancy's Palm Tree!